Tips on Starting Up a Conversation About Florida Estate Planning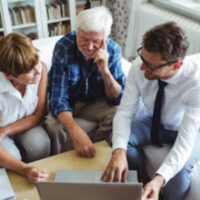 Many people see estate planning as being too morbid or doom-and-gloom to discuss, while still others avoid the topic because they're superstitious about what it might bring. Unfortunately, individuals with this mind-set could face an even worse fate: Dying without a will or other arrangements, which means Florida's statute on Intestate Estates will be making post-death decisions for you. Alternatively, you could become incapacitated during your lifetime – putting your family in the difficult position of needing court approval to handle health care and financial matters.
While conversation may seem intimidating, it's an important one to have. You can make the discussion a productive one by retaining a Florida estate planning attorney to guide the dialogue. However, some tips to open the lines of communication may be helpful.
Pick the Right Time and Place: A conversation as important as this one deserves some advance planning, but it doesn't have to be an extravagant event. Schedule the discussion around an activity, such as a walk, cup of coffee, or lunch. 
Do Some Storytelling: An anecdote, news report, or personal story can serve as a foundation for starting up an estate planning chat. You might choose to relate the inconvenience and hardship for family members when a loved one dies or becomes incapacitated without proper documentation in place. 
Take Baby Steps: Don't expect to finish the estate planning discussion at one sitting. You can raise key issues, and then set up another time to talk things over once the relevant parties have had a chance to mull things over. 
Make it a Team Effort: When you're having the conversation with your partner, use terminology that makes it clear that you want active input and participation. Make it clear that your estate plan is a collaborative experience. 
Keep Children in the Loop: If you're discussing things with children or other family members, make it clear that you want transparency for everyone involved. Ask for their insights and explain your decisions, especially where you'll be appointing someone to act on your behalf. Keep in mind that adult children may harbor some hostility about your estate plan if they don't agree with it – but at least they won't be surprised.
Avoid Confrontation: Children who approach their parents about estate planning may face some resentment, so make it clear that you're not after an inheritance. You might consider covering the cost of a meeting with a lawyer, perhaps as a gift. Starting a discussion about estate planning is the goal – even if you're not participating in it.
Consult with a Florida Estate Planning Attorney Regarding Your Options 
If you need assistance on striking up this all-important conversation, you can trust a skilled estate planning lawyer to make your family more comfortable with the process. Plus, an attorney can advise you on your options and draw up the documents that enable your vision. For more information on how our team serves the estate planning needs of clients throughout Pasco County, please contact a Dade City estate planning lawyer at The Law Office of Laurie R. Chane. You can schedule a consultation at our office by calling 352-567-0055 or completing our online contact form.
https://www.chanelaw.com/new-electronic-notary-process-for-florida-in-2020/