New Electronic Notary Process for Florida in 2020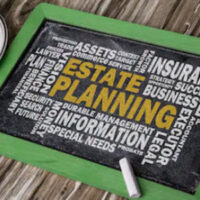 The beginning of every calendar year brings a range of new laws in Florida, and 2020 is no different. A recent Tampa Bay Times article outlined several measures that became effective on January 1, though one that touches on estate planning may have escaped your notice. Instead of visiting your bank, public office, or other locations to have important documents notarized, you can now handle the process electronically – such as through a video conference call or similar communications arrangement.
There's no doubt that working with a notary public by electronic communications may seem a convenient, attractive option when you're executing a will, power of attorney, or related documents that require notarization. However, the arrangement does NOT dispense with the necessity of retaining a Florida estate planning attorney. An overview should help you understand the reasons why.
Overview of the New Electronic Notary Process: The recent law created a new section under the Florida statutes chapter on "Notaries Public," which includes key definitions, procedural rules, fees, and standards for electronic notarization. The effect of the statue is to allow a signer of a document, along with witnesses, to appear before a qualified notary public by means of "audio-video communication technology." The electronic solution will be sufficient if the parties can see, hear, and interact with each other in real-time. However, there are some protections required by the law for purposes of digital security, since authentication and verification of identity are essential components of the notarizations process. The notary must obtain a separate electronic seal that is unique to the notary public. 
Estate Planning Documents that Require a Notary: There's a wide array of official papers that can now be notarized via electronic communications technology, many of which fall under the umbrella of financial or business documents. For instance, you might need your signature notarized when executing mortgage documents, deeds to property, commercial leases, or certain corporate documents.
In the context of estate planning, you'll need a notary public to make the following documents effective upon execution:
Your will;
Your Durable Power of Attorney for property;
Your Health Care Surrogate Designation; and,
Documents related to creating a trust.
It's Essential to Retain an Experienced Estate Planning Attorney: The purpose of a notary is to avoid fraud by authenticating the identity of a signatory to an important document. This can be accomplished either through personal knowledge or by checking a person's ID. You cannot rely on a notary public to explain the contents of the document or provide legal advice on what it means. For these tasks, you need to consult with an attorney who can advise you on estate planning considerations. Your lawyer can also assist in the drafting and review process – in addition to providing notary services. 
Trust Your Future to a Pasco County, FL Estate Planning Lawyer 
Electronic notarization is certainly convenient when executing some paperwork, but it's important to remember that the arrangement is logistical in nature. You shouldn't count on a notary public to advise you on estate planning or assist you with drafting important documents. To learn more about our legal services, please contact a Dade City estate planning lawyer at The Law Office of Laurie R. Chane. You can set up a consultation by calling 352-567-0055 or completing our online form.
Resource:
tampabay.com/florida-politics/buzz/2019/12/27/new-florida-laws-coming-wednesday-including-driving-while-texting-enforcement/
https://www.chanelaw.com/4-questions-to-ask-your-florida-estate-planning-attorney/