Laurie R. Chane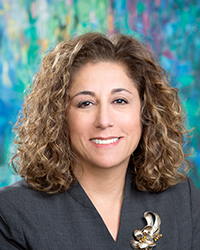 Attorney
Laurie R. Chane practices Family Law, Estate Planning, and Elder Law, and she is a Criminal Defense lawyer as well. She has more than 25 years of experience serving clients with complex issues related to divorce, child custody and support, as well as criminal defense issues such as DUI, domestic violence injunctions, probation violations, drug charges, theft and serious violent felonies.
Ms. Chane began her career in East Pasco County where she spent several years as an Assistant Public Defender. As an Assistant Public Defender, she had the responsibility of representing people charged with a variety of crimes from Petit Theft, DUI, Sexual Battery, and Capital Murder. In that practice, she earned her reputation as a skilled and aggressive trial attorney.
After leaving the Office of the Public Defender, Ms. Chane entered private practice as a partner in the law firm of Chane & Eble, P.A. It was there that she established herself as a family law lawyer. She represented hundreds of clients in divorce, child custody, paternity, and step-parent adoption cases. Her trial skills learned while she was an assistant public defender made her a strong litigator and negotiator. Since that time she has become a sole practitioner concentrating her practice in the areas of family law, elder law, estate planning, probate, and criminal defense. Ms. Chane regularly mediates cases on behalf of parties in family law cases and has also acted as the mediator on a regular basis. She is a trained and experienced Collaborative Law attorney who has integrated collaborative law into her family practice and is a member of the Next Generation Divorce practice group. She presently leads the Pasco POD for Next Generation Professionals.
Laurie R.Chane has achieved an AV Preeminent rating by her peers through Martindale-Hubbell. AV Preeminent is a significant rating accomplishment and a testament to the fact that a lawyer's peers rank her at the highest level of professional excellence. In addition, Laurie is an accredited attorney, recognized by VA as legally authorized and capable of assisting claimants in pursuit of benefits before the Department of Veterans Affairs.
A Florida native, Ms. Chane received her bachelor's degree from the University of South Florida and her law degree from the University of Miami School of Law. Ms. Chane has practiced law in Pasco County and surrounding counties since 1990. Presently she is the President of the East Pasco Bar Association as well as a member of the National Academy of Elder Law Attorneys. She is an active member of Congregation Rodeph Sholom where she presently serves on the Executive Board.
When Ms. Chane isn't practicing law, she can most often be found with her husband, Rob. Together they have two daughters.