Considerations When Cutting An Heir Out Of Your Estate Plan In Florida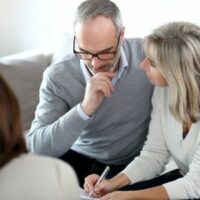 Finding out that someone has been cut out of a decedent's estate plan can be among the most jaw-dropping moments in a TV or film drama, but many people do consider their options in real life as well. Essentially, the objective is to leave out a person who would normally inherit part of the estate if there was no plan. Under the definitions section of the Florida Probate Code, "heirs" are the individuals that would be entitled to the property of the decedent died intestate meaning without a will. As such, what you are doing by cutting someone out of your will is closing any gaps that might allow an heir to take a portion of your estate.
Eliminating a person from your estate plan is not a decision to be taken lightly, especially since doing so tends to increase the potential for will contests and expensive litigation. However, a Dade City wills lawyer can advise you on the process and assist with drafting proper documents. Plus, you might take into account some considerations when cutting an heir out of your estate plan in Florida. 
Who Qualifies as an Heir 
To expand upon the definition stated above, an heir is anyone who would be entitled to receive your estate if you did not prepare a will or trust. The laws of intestate succession determine how your assets are distributed in such a case. When you DO prepare an estate plan, the group of individuals who constitute heirs remain the same. They would include:
Your surviving spouse;
Children, if any;
A grandchild, if your child/the parent dies before you;
Your parents, if there is no surviving spouse or children; and,
Your siblings, if none of the above individuals is alive. 
Limitations on Disinheriting Certain Parties 
Like other US states, you cannot cut your spouse out of your will in Florida unless there is a valid prenuptial agreement signed by both parties. There is a statute that provides for the "spousal elective share," which is intended to offer a safety net when a spouse is left nothing or little in the deceased's will. A surviving spouse can override the will and collect approximately 30 percent of the estate value.
In addition, you cannot disinherit children under 18 years old. As long as you are the natural parent, your minor children will receive the same amount as if you had died intestate.
 Strategies for Drafting Your Will 
The key to ensuring that your disinheritance provision is enforceable is describing your intentions and using proper language in the will. You must state your intentions clearly, leaving no question that you do not want this person included and why. As a follow-up tip, make sure to keep your will current. Your intentions may be different with respect to this individual, and you might change your mind about leaving someone out.
Discuss Details with a Skilled Dade City, FL Wills Attorney 
For more information on leaving an heir out of your will, please contact The Law Office of Laurie R. Chane to set up a consultation. You can reach a member of our team by calling 352-567-0055 or visiting our website.
Source:
leg.state.fl.us/statutes/index.cfm?App_mode=Display_Statute&Search_String=&URL=0700-0799/0731/Sections/0731.201.html