Types Of Florida Estate Litigation You Avoid With A Will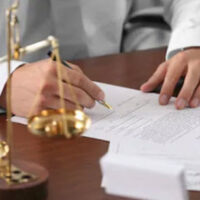 Most people will do all they can to avoid litigation during their lifetimes, but you might not expect that legal action could even arise after your passing. Though your estate may be in the position to sue or defend claims, some of the most common lawsuits involve administration of the estate itself. The best way to avoid problems with management of your final affairs is executing a will. It is a fundamental legal concept under Florida estates and trusts laws that any adult of sound mind may create one. However, you often hear about the numerous benefits without realizing how a will can prevent certain types of litigation.
You should always discuss specific concerns with a Dade City wills lawyer who can advise you on strategies. It is also helpful to review some of the most common types of estate litigation that are avoidable when you have a properly executed will.                                            
Disputes Over Personal Representative 
If you do not have a will naming an executor, Florida law on intestate estates steps in to determine who will handle administrator. The order of preference starts with the surviving spouse, but the heirs may select someone or the court may choose one of the heirs to act. Disagreements about who should serve as personal representative can take months to resolve through litigation. 
Will Contests 
Almost anyone with an interest in the estate can sue in court to dispute the validity of a will, such as by questioning the capacity or raising claims of duress. In Florida, you can reduce the possibility of a will contest because the laws allow a testator to "self-prove" the document. In addition to the requirements of signing in the presence of two witnesses, a self-proving affidavit attests to the validity of the will.
 Guardianships 
Parents of minor children can include designation of guardian by will, reducing the potential for surviving family members to litigate who will raise the child. However, note that:
Even if you name a guardian, it is still necessary to get court approval for the guardianship to become effective.
You cannot name a guardian to act if the child's other parent is still living and parental rights have not been terminated. 
Litigation on Specific Assets 
When preparing your will, there are generally two categories of property that you will distribute to beneficiaries:
Bequests of specific assets, such as real estate, art, collections, jewelry, and other items – which may carry sentimental value for some beneficiaries.
The "residue" of your estate, which is everything that is not a specific bequest or applied to creditor claims. 
Call Now to Discuss Wills with a Florida Estate Planning Attorney 
Besides avoiding certain types of lawsuits after your passing, a will offers many other benefits to support your estate plan. For more information on your options, please contact The Law Office of Laurie R. Chane. You can call our Dade City, FL office at 352-567-0055 or go online to set up a consultation with a knowledgeable wills and estate planning lawyer.
Resource:
leg.state.fl.us/Statutes/index.cfm?App_mode=Display_Statute&Search_String=&URL=0700-0799/0732/Sections/0732.501.html