How Life Insurance Works in a Florida Divorce Case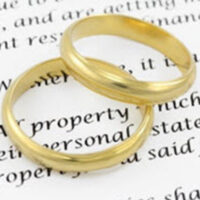 As parties are going through real estate, bank accounts, retirement benefits, investments, and other assets as part of the Florida divorce process, there is one key item many tend to overlook: Life insurance. You might not think of it as property, since you assume that the only way to access the policy proceeds is through the death of the insured. However, Florida's statute on equitable distribution includes some types of insurance under its definition of marital assets and liabilities. Accordingly, any value could be fairly split between spouses.
Unfortunately, life insurance and underlying details related to the divorce process are far more complicated. You can trust a Dade City divorce lawyer to protect your interests, but some background information may be helpful.
Cash Value is the Key: Understanding how life insurance works in divorce starts with a description of the two types of policies people usually choose:
Term Life Insurance: With this option, the policyholder pays premiums according to terms set by the insurance company. If the insured passes away, the insurer pays a designated death benefit to individuals named as beneficiaries. Term life has no cash value until the date of death.
Permanent Life Insurance: Also called "whole life" insurance, this type of policy DOES have a cash value. You pay your premiums and are typically guaranteed to obtain a rate of return on your funds. The arrangement is essentially an investment account tied to an insurance policy, so it would qualify as a marital asset in Florida divorce. You may be able to work out an agreement on how to split up the proceeds but, if you cannot, a court will divide it according to the equitable distribution statute.

Updating Beneficiary Designations: Though term life insurance will not be divided in a Florida divorce, you will need to address the policy during the proceedings. The reason is that ending your marriage does not, in itself, make any changes to your beneficiary designations. Most policyholders will name their spouse as a beneficiary, to provide financial support to that person and other family members if the insured passes away. If you are considering divorce or a case is already pending, you should discuss updates to your beneficiary designations with your lawyer. 
You May Be Required to Purchase or Maintain Life Insurance: On a related topic, keep in mind that insurance can play another role in a divorce. If you are required to pay child support or alimony, the court may order you to purchase or continue paying premiums on an existing policy. Life insurance acts as a form of security if you pass away, paying out a death benefit to your children or ex-spouse. 
Get More Information from a Florida Divorce Attorney 
This basic description of life insurance is useful, but the legal nuances are much more complex in practice – especially in a particularly heated divorce. For additional details custom-tailored to your specific situation, please contact a Dade City divorce lawyer at The Law Office of Laurie R. Chane. You can call 352-567-0055 or fill out our online contact form to set up a consultation at our office.
https://www.chanelaw.com/spousal-misconduct-during-the-florida-divorce-process/