Do I Have To Accept The Outcome In Florida Divorce Mediation?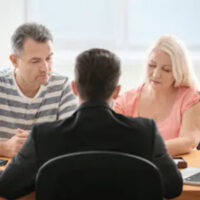 If you are going through divorce in Florida and are in dispute over certain issues, you can expect that court-ordered mediation will be part of the process. During mediation, the parties work through disagreements with the guidance from a trained mediator who helps them overcome communication challenges. You might be ambivalent about participating or have doubts, but there are benefits. The Florida Courts website provides a few pluses over litigation, including reduced time to resolution and lower legal fees. Plus, you have some control over the outcome.
However, the question often arises on the issue of the outcome: Do you have to accept the results of mediation? Before getting to the answer, it is important to realize that you are more likely to be satisfied with mediation if you participate in a meaningful way. Your Dade City divorce mediation lawyer can provide specific advice, and you can review some general tips.
Tips for Success with Mediation: The answer is No, you do not need to accept the outcome in mediation, because the decision is in your hands. If you do not agree with proposed solutions on property, alimony, and children, the process terminates. Your divorce moves forward in court for a decision by a judge.
However, considering the benefits, it is worth your time and effort to participate in mediation effectively. Some tips include:
Be prepared to assess the dispute from your spouse's viewpoint.
Do not approach mediation as win-lose.
Understand that the focus of mediation is the spirit of compromise.
Set priorities in terms of what you would be willing to give up or not.
Keep in mind that what you say and discussions about unfinalized agreements are confidential and cannot be raised in court.
Additional Points About Divorce Mediation: On the other side of the issue, you might be wondering what happens if you do reach agreement. Whether you compromise on all or some of the divorce issues, the parties put their agreement in writing and sign. Your respective attorneys will handle any court filings to get a final divorce decree. The agreement is binding and enforceable, so you have legal remedies for breach.
One important note involves the interests of children in divorce mediation. Parents can create an agreed-upon parenting plan, including specifics on child custody and visitation. The agreement can also include child support. Unlike property division and alimony, a judge must review these issues before approving – even though you agreed in mediation. The court will evaluate the arrangement to ensure it serves the child's best interests.
Talk to a Florida Divorce Mediation Attorney About What to Expect
You are not required to accept the outcome in mediation, but you can see the importance of giving it your best shot. Making the effort means you can take advantage of yet another benefit, which is control over the results. To learn more about the process, please contact The Law Office of Laurie R. Chane in Dade City. You can call 352-567-0055 or visit us online to set up a consultation.