Three Pillars Of Florida Estate Planning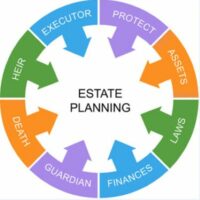 Despite the fact that more than half of Americans consider estate planning to be at least somewhat important, statistics indicate that many are lagging behind when it comes to taking action. According to an annual survey conducted by Caring.com, just 33 percent of adults have a will or living trust in 2022. Though the top reasons for not moving forward with an estate plan vary, one of the biggest concerns this year is that one-third of survey respondents believe they are not "rich" enough to create one.
Another common reason given for not preparing an estate plan is not knowing where to begin, and this is understandable. Estate planning is complicated, and it is easy to get bogged down in details. You will find a lot of information about the specific documents to draft, but you might not understand how these fit with other components. Trust a Dade City estate planning attorney to advise you, but you can learn a lot from knowing the three pillars. 
Incapacity: It surprises some people to find that some of the most powerful, effective estate planning tools support your needs while still alive. If you suffer from a medical condition that renders you unable to make decisions regarding your assets and health care, your family will be forced to go to court to get permission to act on your behalf. Guardianship proceedings are expensive and time-consuming; plus, you are unable to express your intentions regarding management of property and medical decision-making. To avoid these drawbacks, consider:
A Designation of Health Care Surrogate, in which you appoint an agent to handle medical-related decisions; and,
A Durable Power of Attorney that allows you to name an agent to manage your finances. Real estate and personal property. 
Asset Protection: Another aspect of estate planning that offers advantage during your lifetime aims to safeguard your real estate and personal property. A living trust is often the wise option for protecting assets from taxes and creditors, though special care is necessary to avoid fraudulent transfers. A revocable trust allows you to make changes, but you can also opt for an irrevocable trust which can provide stricter protections. In blended families, estate planning is the best way to make sure children from both relationships are protected.. Many people in professions that are subject to high litigation rates will use a living trust to ensure a judgment creditor cannot reach the assets it holds. 
Estate Planning at Death: People are most familiar with this pillar of estate planning because they understand how the most important document – a will – works upon someone's death. Through your will, you name an executor to manage your estate, make distributions to beneficiaries, and handle other final affairs. You can also create a testamentary trust via your will, which enables you to maintain some control over your legacy.
A Dade City Estate Planning Lawyer Can Provide Personalized Advice 
For more information on how specific strategies work within these three pillars of estate planning, please contact The Law Office of Laurie R. Chane. Individuals in Pasco County can call 352-567-0055 or go online to set up a consultation. We can offer additional details after reviewing your circumstances and goals.
Source:
caring.com/caregivers/estate-planning/wills-survey/