Overview of Florida Law on Grandparent Visitation Rights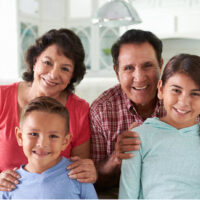 A divorce is technically the dissolution of a marriage between two spouses, but the reality is that the case impacts entire families. Many grandparents are justified in having concerns about their ability to see their grandchildren, particularly where they did not get along well with their own child's spouse or that person wants to prevent access. Unfortunately, while several US states have enacted legislation through which grandparents can request visitation, the Florida statute is extremely limited in application.
If you are a grandparent wondering about visitation rights with your grandchildren, it is essential to get in touch with a Dade City, FL family law attorney who can review your case and explain how the laws apply to your situation. You might also benefit from reviewing some of the basics about grandparents' rights in Florida.
Florida's View of Grandparent Rights: Even though some US states have relaxed rules or enacted legislation on the matter, Florida's statute on grandparent visitation does not favor giving rights to other individuals beyond the child's parents. As a result, there are limited situations in which you may have grounds to file a petition for grandparent visitation, including where:
Both parents have died, cannot be located, or are incapacitated; or,
One parent is deceased, missing, or in a vegetative state AND the other parent has been convicted of a felony or violent offense that poses a threat to the child.
Essentially, the strict language of the statute means that grandparents have no right to visitation if there is at least one parent who is around and not a violent felon. 
Filing a Petition for Court-Ordered Grandparent Visitation Rights: If you do meet the criteria designated by law, you will need to go through the legal requirements indicated in the statute. The first step is filing the petition, in which you describe the facts that give rise to your visitation rights as a grandparent. Under scenario #1 above, your petition and supporting paperwork may be sufficient for the court to grant your request.
However, if your case involves scenario #2, there are additional proceedings:
The court must conduct a preliminary hearing on the remaining parent's fitness and whether there is any threat of harm to the child. If there is not sufficient proof, the judge will deny the petition to allow grandparent visitation.
If the judge determines that there is enough evidence to go forward, the next area of inquiry is whether allowing visitation by grandparents is in the child's best interests. One key factor in the analysis is the impact grandparent visitation will have on the parent-child relationship.
Trust a Florida Family Law Attorney to Assist with Grandparents' Rights 
This overview should be helpful in describing some of the general legal concepts, but you will certainly want more personalized information about Florida law on grandparents' rights. Our Dade City family lawyers at The Law Office of Laurie R. Chane can advise you on your options, so please call 352-567-0055 or visit our website to speak to one of our lawyers. We can schedule a consultation.