Next Steps After Signing Your Florida Estate Plan Documents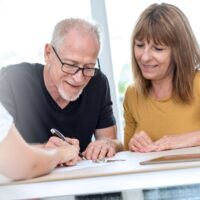 You will probably breathe a sigh of relief or even share a toast when you complete the Florida estate planning process and sign all the necessary documents. There is a great sense of accomplishment at finishing this very important task, and you get peace of mind knowing arrangements are in place for incapacity and your passing. Of course, you are aware through consultation with your attorney that you need to revisit your estate plan from time to time. Changes in your own life, as well as the lives of your executor, agents under powers of attorney, and beneficiaries may make it necessary to make modifications.
However, you may not realize that you might need to perform some follow-up after completing your estate plan. After going through all the work to make your documents legal, you want to ensure you do not leave any loose ends. Your Dade City estate planning lawyer will advise you on details, but there are a few tasks you should be prepared to complete. 
Talk to All Interested Parties 
It is critical to discuss your estate plan details with anyone you are appointing as executor, trustee, health care surrogate, or agent under a durable power of attorney. Plus, you should notify anyone you included as a successor for any of these roles, because they may be required to step up. You might also want to notify any beneficiaries who will be receiving distributions, so they are aware of their future interests. There are also many reasons why you may wish to keep this information confidential.
Fund Your Trust 
Your attorney will guide you with the essential tasks, but keep in mind that your trust does not exist as a legal entity just by signing the document: You must fund it by transferring assets into the trust, which may require:
Executing a quit claim deed for real estate;
Changing titles and ownership documents for tangible assets; and
Working with financial institutions to change ownership and/or beneficiaries on bank, retirement, and investment accounts.
Consider Storage 
One mistake some individuals make is placing their will, trust, or other estate planning documents in a bank safe deposit box. Unfortunately, this may prevent the people who need these documents from accessing them. You should certainly store paperwork in a safe place and get copies to individuals who need them, but make sure they can retrieve originals as necessary.
Documents for Health Care Providers 
It may be wise to provide a copy of your Designation of Health Care Surrogate to your primary care physician for inclusion in your medical records. Besides appointing a surrogate, this document includes your instructions regarding medical care if you are incapacitated. Plus, your living will directs how health care providers should handle life prolonging treatment.
You Can Rely on a Dade City Estate Planning Attorney for Guidance 
These follow-up tasks are critical after signing your important estate planning documents, but you are not on your own to get things done. Our team at The Law Office of Laurie R. Chane will advise you, so please call 352-567-0055 or go online to set up a consultation.