Don't Overlook Your Digital Assets When Working on an Estate Planning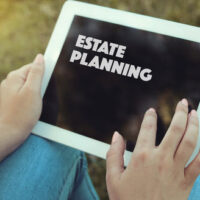 Whether you have a will or die intestate, there are certain procedures under the Florida Probate Code for distributing your assets to your surviving loved ones. Aside from jointly owned items, and designations on bank accounts or life insurance, there's no "automatic" transfer of your property. Your heirs and beneficiaries must go through the process to obtain rightful ownership for real estate, vehicles, jewelry, personal property, and related belongings unless proper estate planning is done in advance.
The same is not true for digital assets, which is why they're the most overlooked aspects of estate planning. Many people don't associate these electronic information and attributes as having value, but they may for your loved ones – and you can be sure that hackers will find a way to profit by any illegal means possible. You'll realize the importance of talking to your Florida estate planning lawyer about digital assets once you learn the following information. 
Inventory All Electronic Devices: The best place to start is by writing down a list of all devices, including your desktop computer, laptop, tablet, smartphone, and others – along with the passwords to access each one. In addition, note your passwords for other important apps you use frequently across all devices. You should update this inventory as often as you change your credentials or buy a new device. 
Create a Database of Profiles and Digital Assets: The second step is to itemize all online accounts and digital files, along with your login and passwords – and any security questions that apply as additional levels of authentication. In this database, you should make sure to include:
All email accounts, both work and personal;
Your social media profiles, such as Facebook, LinkedIn, Instagram, Pinterest, and others;
Your accounts for books and music services;
Online dating accounts, if any;
Storage and sharing for files, photos, videos, and other content;
Online marketplace accounts, such as Amazon, Walmart, and Ebay; and,
Any other online material that has value – or could be used by hackers.

Determine How Digital Assets are Distributed: Some of these items are attached to a license, which means you can't pass them on to your surviving loved ones unless you share a family account. Where your digital asset is stored or archived, you'll want people to be able to access it – such as your photos, videos, and music. If the online presence is one you want to continue, you can allow it to go on through another user. With respect to each item on your list of digital assets, make a note regarding what you want to happen to it. You can leave this list and instructions with your other estate planning documents. 
Name an Executor for Digital Assets: Finally, you should designate the person you want to carry out your wishes with respect to digital assets. Make sure you name someone who is tech savvy and able to understand your instructions.
Talk to a Florida Estate Planning Attorney About Handling Digital Assets 
With more than 25 years of experience representing clients throughout Pasco County, our Dade City estate planning attorneys at the Law Office of Laurie R. Chane are prepared to advise you on electronic assets in your estate plan. Please contact us to schedule a consultation today.
https://www.chanelaw.com/what-does-a-florida-elder-law-attorney-do/