Types of Estate Administration in Florida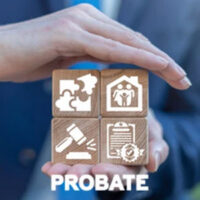 When a person dies with real estate, bank accounts, and personal property in not held in trust, there is a legal process surviving loved ones must go through to distribute these assets to the people entitled to them by law. The details are covered in a section of the Florida Probate Code on Administration of Estates, which describes the different types of proceedings based upon the decedent's circumstances. In part, the nature of the probate process will depend upon whether the deceased individual had a will; however, there are many other factors that impact estate administration.
If you recently lost a loved one, it is crucial to discuss your situation with a Dade City probate attorney who can advise you and guide you through the probate process. You might also benefit from an overview of the different types of estate administration in Florida.
Disposition Without Administration: When a loved one dies with only a small amount of personal property and no real estate, you may be able to wrap up that person's final affairs through this option. Disposition without Administration is typically reserved for situations where someone would like reimbursement for funeral costs and expenses for the decedent's medical care. The process is informal, requiring the interested party to submit an affidavit that identifies the property and states information to support the request.
Summary Administration: Another simplified procedure may be appropriate where the deceased individual's assets do not exceed $75,000 or the decedent passed away more than two years ago. Upon filing summary administration documents with the court, a judge may sign an order releasing the deceased person's property to:
Beneficiaries named in a will; or,
Heirs according to Florida law on intestate estates.

Note that, if the decedent left a surviving spouse, that person must sign and verify the petition. 
Formal Administration: This type of estate administration is what comes to mind for most people when a loved one dies. The process involves:
Appointment of a personal representative;
Gathering, inventorying, and valuating estate assets;
Distributing real estate and personal property according to the will or laws of intestacy;
Paying creditors; and,
Wrapping up the estate when all essential tasks are complete.

Ancillary Administration: It is often the case that someone owning real estate in Florida does not live in the state, so that person's estate will proceed in the court where he or she is a resident. Still, there are matters to resolve with respect to the property. They can be handled through summary of formal estate administration but – being ancillary to an estate proceeding elsewhere – the case in Florida goes through this process.
Consult with a Florida Probate Lawyer for Additional Details 
As you can see, it is important to discuss your circumstances with an attorney if a loved one passed away with assets that may need to be probated. At The Law Office of Laurie R. Chane, our team is prepared to tackle complicated challenges, so please contact our Dade City, FL office at 352-567-0055 or via our website. We can set up a consultation to review your circumstances and determine how to proceed.
Resource:
leg.state.fl.us/statutes/index.cfm?App_mode=Display_Statute&URL=0700-0799/0733/0733ContentsIndex.html&StatuteYear=2020&Title=%2D%3E2020%2D%3EChapter%20733