Guardianship for an Elderly Family Member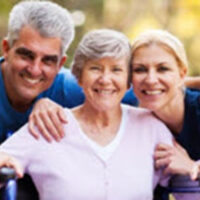 You may not give much thought to your loved ones' need for assistance as they grow older, but statistics indicate that the topic of guardianship may come up in the future. US Census Bureau figures reveal that the nation's elderly population has expanded considerably since 2010, with the 65+ age group growing by 34.2 percent. The phenomenon is notable in Florida, where 1 in 5 people is aged 65 years or older according to 2019 data. While many individuals can live independently, others will require help with medical care and financial affairs. Unless an advance directive is in place, guardianship is the only legal option for addressing these needs.
If you have an elderly relative who is incapacitated because of an age-related ailment or other medical condition, you might consider becoming that person's guardian. However, it is wise to retain a Dade City elder law attorney for assistance with the initial proceedings and ongoing requirements. Plus, you should ask yourself a few questions to determine whether you are ready and willing to take on guardianship duties.
What are the general tasks for a guardian in Florida? Every case is different, but guardians are typically tasked with handling medical decision-making and managing the financial affairs for an incapacitated person. You will be required to act in the ward's best interests in doing so, because you stand in the position of a fiduciary. As part of your duties, you will be required to report back to the court on a regular basis regarding the ward's income, expense, health and well-being, and other matters. 
Can I handle the paperwork and record-keeping regarding the ward's financial affairs? Guardians are charged with collecting income, making expenditures for the ward's needs, and managing his or her assets. You will need to establish a budget, maintain real estate and personal property responsibly, and be organized with all documentation regarding assets. It is also important to track all tasks you undertake for the ward, in case the court needs to review them later. 
Am I prepared to meet health care related duties required of a guardian? Your duties include ensuring the ward receives essential medical care, as well as determining the best living arrangement. Often, this means researching assisted living facilities and assessing the level of long-term care required for the ward's medical status. 
Will I have to go to court for guardianship proceedings in Florida? You will have to attend hearings on a periodic basis, though your attorney will represent you during the proceedings. One key to guardianship cases is reporting to the court on the ward's financial matters, health status, and how you have used your guardianship powers. The judge will review and assess whether guardianship is still necessary.
A Florida Elder Law Attorney Can Guide Guardianship Decisions 
It is helpful to consider these and other questions when determining whether to act as guardian for an elderly loved one. For assistance with the legal process, please contact The Law Office of Laurie R. Chane at 352-567-0055 or via our website to set up a consultation.
Resource:
census.gov/newsroom/press-releases/2020/65-older-population-grows.html#:~:text=The%20growth%20of%20this%20population,in%202011%2C%E2%80%9D%20said%20Dr.