Mediation In Florida Probate Disputes: Things To Know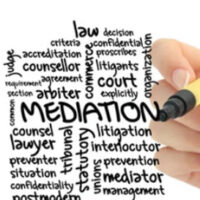 Florida probate is the process by which a deceased person's final affairs are wrapped up according to the terms of a will or state intestacy laws. There is always the possibility for disputes, and litigation is one route for resolving them. However, in most cases, a judge will order the parties to participate in mediation to address estate administration disagreements. During this proceeding, the parties and their lawyers sit down with a mediation professional to work out conflicts. Mediators must meet certification requirements established by the Florida Office of the Court Administrator, so they have high level training to help parties get closer together on compromise.
No matter what your position in an estate administration dispute, retaining legal counsel is essential for mediation. There are numerous benefits, including cost and time savings, but you may not take full advantage of them without experienced representation. Your Dade City probate attorney will tackle the details, though you should be aware of a few facts about mediation.
Types of Disputes in Estate Administration 
Almost any disagreement among the interested parties in a probate case would be appropriate for mediation. Interested parties include anyone with an interest in estate administration, such as the executor, personal representative, beneficiaries, heirs, creditors, trustees, and many others. Conflicts often arise over:
The validity of a will;
The named executor's ability to serve;
Who should serve as personal representative of an intestate estate;
The amount due a creditor;
Who is an heir;
Specific bequests to beneficiaries;
Whether a family member or caretaker exploited a vulnerable decedent before his or her death; and,
Lifetime gifts or other transfers. 
What to Expect with the Mediation Process 
Mediation is relatively informal compared to court, and it will start with introductions and an opening statement by the mediator. Each party will be allowed to identify what they believe the issues are and the  arguments in favor of their respective positions. The mediation professional will then attempt to narrow the disagreement and separate out ancillary issues. Other details of the proceeding vary, but:
The parties may conduct private sessions with the mediator to pinpoint or stress certain issues.
After breakout sessions, the mediator may guide the group in discussions toward options for a compromise. At times, the parties work out a settlement of all or some of the issues after reviewing  each other's positions.
The objective is to reach agreement on disputes, so that the probate case can get back on track.
Mediation is binding on the parties, whether they voluntarily choose it or the judge orders it. If you are unable to reach an agreement,  you can return to court for a trial. With estate litigation, the judge will review the evidence and apply Florida probate laws. Mediation offers more flexibility and ability to control the result.
A Florida Probate Lawyer Will Counsel You Through Mediation 
For more information about how mediation works in estate administration matters, please contact The Law Office of Laurie R. Chane. Individuals in Pasco County. Call 352-567-0055 or fill out an online form to set up a consultation. Once we review your situation, a probate attorney can provide additional details.
Resource:
flcourts.org/Resources-Services/Alternative-Dispute-Resolution/Training-Information/Certified-Mediation-Training-Programs