Tips for Communicating with a Loved One Who Has Dementia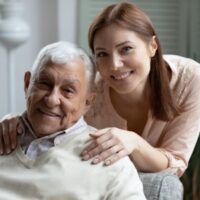 If you have a loved one with dementia or memory loss, you may already be familiar with the disturbing statistics on these disorders. According to the Alzheimer's Association, 1 in 3 elderly people die with dementia, though the actual death is due to other causes. There are currently more than 6 million people living in the US who have Alzheimer's, and this figure is expected to more than double by 2050.
Those who have a loved one with these conditions are probably becoming familiar with another common phenomenon: Difficulties in communicating with that person. These are challenges that arise in the early stages of dementia, but they continue even after diagnosis. Communication is critical for your relationship, but you may also need to discuss legal, financial, and health matters. A Dade City elder law attorney will help you navigate challenges, and some tips on communicating with your loved one are helpful.
Early Stages of Dementia: The conversation may be uncomfortable and awkward, but it is one that you should have as soon as possible when you have concerns. Your loved one may still have capacity and rationality, enabling them to participate in decisions for the future. Some points to consider when you raise the discussion include:
Expect frustration or even anger, as it is very difficult for a person to confront the fact that they may suffer from a progressive diseases.
Make sure that you communicate your desire to help, through words and body language.
You might not expect any resolution to elder law matters or care needs right away, and let your loved one know that they can take time to process the situation.
Repeatedly stress the fact that your loved one will not go through the progression of Alzheimer's or dementia alone.
Eventually, discuss the future. When appropriate, mention options for incapacity planning, such as powers of attorney. 
As Memory Disorders Progress: Dementia can cause mood swings, angry outbursts, and depression in addition to memory loss. Improve your communication skills with a specific focus on the effects of dementia:
At the start of any conversation, establish your relationship. Speak the person's name and state your own, along with how you know your loved one.
Avoid distractions like TV and background movement and noise. An individual with dementia may lose focus.
Keep your discussions simple, speaking slowly and clearly. Allow plenty of time for your loved one to respond.
Redirect conversations if your loved one becomes distressed.
Take them back to the past with conversations and photos about childhood and early life. Dementia affects short-term memory, so many people have flourishing, vivid memories about their lives years ago.
 Talk to a Florida Elder Law Attorney About Important Legal Matters
These tips for communicating with someone who has dementia are useful, but there are many other considerations when you have concerns about their care. The Law Office of Laurie R. Chane assists clients with a wide range of elder law matters, so please contact our firm to schedule a consultation. You can speak to a member of our team by calling 352-567-0055 or visiting us online.