Steps to be Appointed as Guardian for an Elderly Adult in Florida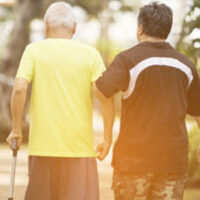 If you have concerns that an aging loved one is showing signs of mental or physical deterioration, you are not alone. Statistics on dementia indicate that there were 5.7 million Americans living with Alzheimer's, vascular, and related conditions in 2018, and the figures are predicted to increase along with life expectancy: By 2050, 13.8 million individuals could be affected, many of whom could be incapacitated and unable to handle their own personal affairs.
When it is too late for the affected person to prepare a power of attorney, Florida law provides that an eligible individual can be appointed by a court to act as guardian. You essentially step into the shoes of the ward to handle financial matters and/or health care decisions on his or her behalf. There are several steps involved, so you should work with a Pasco County guardianship attorney who can guide you through:
Investigation and Collecting Information: There is some advance preparation involved with requesting appointment as guardian, since you must file a petition and supporting documentation to initiate the process. A court will only grant a request for an "incapacitated" person, so you must include all available documentation and other facts that lead you to conclude the ward is unable to make responsible decisions. Besides your own observations, you should investigate to obtain the statements of others, medical records, and other details.

Filing a Petition to Initiate the Legal Process: FOne must file a Petition to Determine Incapacity, in which you allege that the ward is incapacitated and needs a guardian. Depending on your situation and relief that you are seeking, you might prepare:
Application for Appointment as Guardian, asking the court to appoint you as the guardian; or,
Petition for Appointment of Guardian, where you ask the court to appoint someone as guardian – but not necessarily you.

Assessment by Examining Committee: Determination of incapacity is the initial issue the court will address, but judges typically do not have the medical knowledge to make a finding. Therefore, the court appoints three health care professionals to an examining committee; the credentials of these individuals will vary according to the specific medical condition of the ward. Each will meet separately with the ward and prepare a written report regarding incapacity.

Reviewing Requirements of Guardian: If the judge finds the ward to be incapacitated, the case then turns to who will act as guardian. To be appointed, you must be a Florida resident who is at least 18 years old and has not been convicted of a felony. Note that other interested parties can object or file a counterpetition to be appointed. The judge may hold a hearing regarding who is best suited for the position.
A Florida Guardianship and Family Law Attorney Can Assist with the Process 
To learn more about how we can help with the various steps of a Florida guardianship case, please contact the Dade City family lawyers at The Law Office of Laurie R. Chane. You can schedule a consultation by calling 352-567-0055 or visiting our website.
Resource:
asha.org/PRPSpecificTopic.aspx?folderid=8589935289&section=Incidence_and_Prevalence