Reasons To Consider Changing Your Florida Will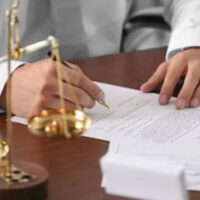 You get a great sense of accomplishment when you work with your Florida estate planning attorney to prepare and execute your Last Will and Testament. Your will is one of the most important cornerstones of your legacy when you pass, and it may work in conjunction with a living trust or other documents. However, not to detract from your sense of accomplishment, you should realize that estate planning is an ongoing process in many ways. Under Florida law on wills, you can make changes by going through the steps described in the statute.
Knowing that you can modify your will raises new questions about whether you should. There are scenarios in which doing so is recommended and others where it is actually critical to make changes. A Dade City wills and estate planning lawyer can advise you based upon your unique circumstances, and some information may help you consider options.
Why to Consider Modifying Your Will 
In general, changes and events that impact your life, family, and finances are reasons to think about revising your will. Some specific examples should also guide you in determining whether to consult with an attorney about modifications:
While you would always include a successor executor when preparing your will, the death of the first person to be named creates a vacancy. A change may be in order to fill the successor's spot.
Your named executor could move, become unable to act or incapacity, or have other reasons that serving this role is impractical.
In the case of a beneficiary's death, his or her heirs would be entitled to take whatever bequest that you included in your will. This may be contrary to your intentions, or it could lead to a very young person receiving assets without proper controls in place.
If you got married or divorced since preparing your will, revisions are in order. Florida law has special rules about how these life events impact estates, but it is best to make the changes to maintain control over your legacy.
 How to Legally Modify Your Will 
The specific tool for revising your will is a codicil, which is a document that revokes any prior wills and includes provisions to serve as a replacement. A codicil requires the same formalities as executing your original will, so it must be in writing and signed by you. Plus, you will need to have two witnesses who observe your signing – and they must each sign themselves attesting to your signature.
Once properly executed, the codicil is effective as your will. It can also be modified if necessary in the future.
A Pasco County Wills Attorney Can Assist with Codicils 
It is reassuring to know that you can modify your will if necessary to suit your needs after a change in circumstances. However, because errors can thwart your intentions, legal help is just as critical as when you prepared the original. For more information, please contact The Law Office of Laurie R. Chane to speak to a Florida estate planning lawyer. You can schedule a consultation by calling 352-567-0055 or visiting our website.
Source:
leg.state.fl.us/Statutes/index.cfm?App_mode=Display_Statute&Search_String=&URL=0700-0799/0732/Sections/0732.505.html