Darelis Ortiz Vega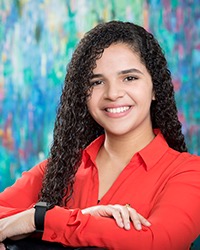 Darelis Ortiz Vega, also known as DD, was born in San Juan, Puerto Rico but was raised in Dade City, Florida. Darelis is fluent in English and Spanish and has worked for our office since January 2017.
Darelis is an exceptional employee who not only works hard at her job but in her personal life as well. For instance, Darelis is currently a full-time student at Saint Leo University as a Political Science Major with a minor in Law Studies. While being enrolled in 3+3 Accelerated Law School Program at the University, Darelis was inducted into the Political Honor Society and the National Leadership Honor Society. Darelis is set to graduate a year earlier than her peers with a Bachelor's Degree and is working hard to get into law school.
DD loves spending time with her family and friends but loves worshipping God above all else. Not only is DD intelligent, she is cheerful and talented as well. She spends a majority of her time at church, singing, playing the piano, or beating her drums. When she isn't studying or working, she is involved in the leadership directive at her church with the desire to lead others to develop their relationship with God. Lastly, DD loves to travel and most recently visited Washington D.C. and her home, Puerto Rico.